Serendipity aparece en New York en los a&ntildeos 50 y hasta hoy es un lugar de referencia donde encontrar famosos compartiendo un helado.

Sus helados son excesivos, llenos de chantilly y toppings. A pesar de lo cual la clientela es delgad&iacutesima puesto que comparte un helado entre cuatro y no lo termina.

Serendipity es famoso por su decoraci&oacuten elegante y sus l&aacutemparas Tiffany.

Hace alg&uacuten tiempo todas las portadas de los peri&oacutedicos se hicieron eco de una excentricidad gastron&oacutemica.

En la competici&oacuten sobre los postres mas caros del mundo destacaba el del restaurante Serendipity de New York, sitio exclusivo donde los haya que por la m&oacutedica cantidad de 10.000 euros o d&oacutelares (que importa) nos ofrec&iacutea una variedad del Frozen Hot Chocolate, un c&oacutectel de 28 tipos de cacao, cinco gramos de oro comestible de 23 quilates, nata montada y una de las trufas de chocolate m&aacutes exclusivas.

Nosotros quisimos ir a este sitio tan especial y probar el famoso Frozen Hot Chocolate en su versi&oacuten tradicional, sin oro y lujo.

Hab&iacuteamos oido hablar tanto de su Frozen Hot Chocolate que nuestras espectativas eran muy altas. Adem&aacutes, nuestro concepto europea de chocolate a la taza&nbsp(caliente o frio) y de nata montada debe ser muy diferente del norteamericano.

Es un postre que en su carta aparece como el emblema de la casa y cuyo nombre inlcuso est&aacute registrado.

La presentaci&oacuten es en copa de helado bal&oacuten muy fria dentro de la que se pone una buena cantidad de granizado de chocolate y se corona con chantilly y virutas de chocolate.

El agua del granizado empieza a fluir por lo que el platillo inferior se llena r&aacutepidamente de l&iacutequido.

La degustaci&oacuten deja mucho que desear para el paladar de nuestros expertos chocolateros.

Empezando por la parate superior a la que todos nos lanzamos con la cucharita (4 cucharitas para compartir una copa es la medida que utilizan) pensando encontrar una nata montada cremosa es decepcionante ya que no recuerda en nada a esa doble crema o nata que nos ofrecen en las buenas chocolater&iacuteas y cafeter&iacuteas europeas. Es un chantilly industrial de muy poco nivel.

Profundizando con la cucharilla llagamos al granizado que, como su nombre indica est&aacute muy muy muy frio. esto unido al exceso de aire acondicionado a la levedad del contenido cal&oacuterico del postre, nos deja helados!

El granizado es decepcionante por su sabor. El chocolate no tiene la potencia deseada, parece mas un colacao disuelto en agua granizado que a un hot chocolate enfriado.

Para los curiosos, el precio es 8,95$, mas impuestos y esta es la receta, en ingl&eacutes para no modificar nio una coma, que aparece en la web de la famos&iacutesima Ophra.


Ingredients

&nbsp6 pieces (1/2-ounce) chocolate , a variety of your favorites
&nbsp2 teaspoons store-bought hot chocolate mix&nbsp
&nbsp1 1/2 tablespoons sugar
&nbsp1 1/2 cups milk
&nbsp3 cups ice
&nbspWhipped cream
&nbspChocolate shavings
&nbsp
Directions
&nbsp
Chop the chocolate into small pieces. Place it in the top of a double boiler over simmering water. Stir occasionally until melted. Add the hot chocolate mix and sugar. Stir until completely melted. Remove from heat and slowly add &frac12 cup of milk until smooth. Cool to room temperature.
In a blender, place the remaining cup of milk, the room-temperature chocolate mixture and the ice. Blend on high speed until smooth and the consistency of a frozen daiquiri. Pour into a giant goblet and top with whipped cream and chocolate shavings.
Para ser justos, los helados que tomaron algunos de mis acompa&ntildeantes, en especial el de cookies con vainilla, si fueron de su gusto, todo hay que decirlo.
Adem&aacutes, tuvieron el detalle de servirnos continuamente vasos de agua muy fria y el servicio fu&eacute perfecto.

En resumen, Serendipity ha pasado a la historia pero&nbspsu granizado de chocolate caliente no&nbspha pasado el filtro de Club del Chocolate.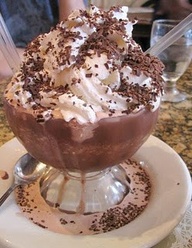 Serendipity es un lugar m&iacutetico para los amantes del helado y de los famosos. Desmontamos el mito de su postre frio emblem&aacutetico el Frozen Hot Chocolate....
&nbsp