Para definir lo que es hoy en dia la filosofía "bean to bar" hay que decir que el concepto ha evolucionado desde su origen en EEUU. 

En palabras de Maria Fernanda di Giacobbe: "Surge como una respuesta a la necesidad de recuperar los orígenes y los sabores reales del cacao, y regresar a estos procesos únicos en el que ningún producto es igual a otro y donde esta característica tiene un valor incalculable"  
Con el boom de este movimiento, el mismo se fue desvirtuando llegando hasta hoy cuando  todos los fabricantes ponen en sus leyendas "del haba a la tableta" o "bean to bar" y es lógico puesto que el cacao proviene del haba de cacao y termina en tableta por lo general.

Ya no nos vale por tanto este nombre que usan tanto los grandes de la industria como los artesanos.
En origen todo es y era del haba a la tableta.

Llamamos "Bean to Bar" al proceso que se rige por los siguientes parámetros:

1. Selección del cacao en origen: 
- Eligiendo cacaos de calidad "fino de aroma" y genética cercana a los criollos y trinitarios antiguos
- Cultivados de forma respetuosa con el medio ambiente, sin químicos
- Manteniendo una relación lo más directa y amigable posible con el agricultor según la filosofía "Direct Cacao"
- Controlando los procesos de postcosecha (especialmente la fermentación y secado)
 - Pagando un precio que permita a todas la partes del proceso (agricultor y expertos en cacao) tener una vida digna.
2. Procesado en obrador:
- Trabajo en pequeñas tongadas o "batches"
- Trillaje eliminando los granos defectuosos e impurezas
- Tostado cuidadoso ajustado en tiempo a cada tipo de grano
- Descascarillado y fragmentación en nibs
- Molido en pequeñas cantidades
- Conchado más o menos largo según el cacao
- Templado y moldeado
Qué no es "bean to bar":
- Cuando se compran los ingredientes disociados del cacao y se unen en la conchadora para luego moldear.
- Cuando se compra cobertura y se atempera y moldea.
- Cuando se hace todo el proceso pero con cacaos de mala calidad y a escala industrial.
-  Cuando solo se cuida el empaque y no el contenido.
De hecho, casi todos los creadores de chocolates "bean to bar" tienen otra línea de producto que no puede llamarse así pero que complementa su trabajo con buena calidad y recetas interesantes partiendo de coberturas preelaboradas con las que se crean "chocolates de autor". Simplemente es otro producto, no es "bean to bar".
La polémica sobre esto está servida hace años al descubrise que conocidos creadores moldeaban tabletas que vendían con la leyenda "bean to bar".
He aquí un buen resumen del trabajo "Bean to Bar" de Duffy's Chocolate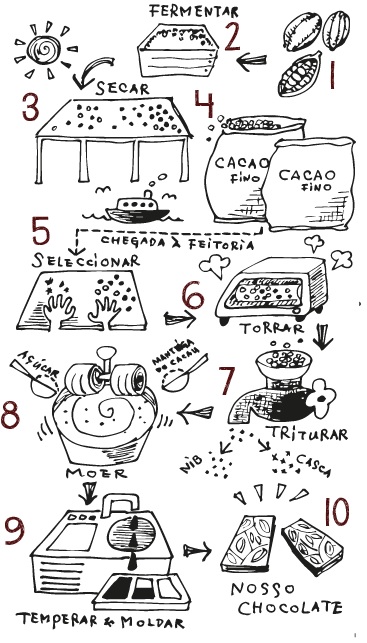 El movimiento  "Bean to Bar" se basa en el cuidadoso proceso del cacao controlando desde el cultivo y cuidando todos los pasos en microlotes hasta obtener la tableta de chocolate.