Disfruta del chocolate de calidad.
Inscríbete en nuestro Club de Cata de Chocolate y podrás participar en experiencias únicas en torno a este maravilloso producto.
Recibe o Regala cada 2 meses un lote de 5 chocolates bean to bar, material informativo y participa si quieres en una sesión online con sorpresas muy interesantes.
Nos diferenciamos en que no te ofrecemos chocolates en minitableta ni muestras. Recibirás el mismo formato y calidad que se vende en nuestra tienda.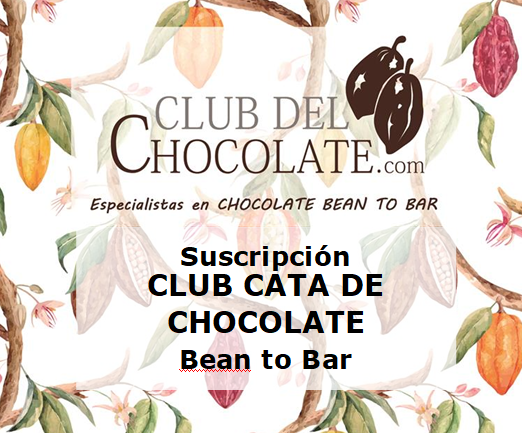 Para pertenecer a nuestro Club de Cata de Chocolate Bean to Bar por Suscripción Anual tiene muchas ventajas puesto que pertenecer al Club de Cata  supone:
- Regalo de Bienvenida
- 6 lotes de 5 chocolates Bean to Bar auténtico en formato comercial igual al de nuestra tienda online, no formatos promocionales de menor peso/calidad
- Muestras gratis de otros chocolates en cada lote
- Invitacion para la cata online del lote recibido
- Posibilidad de derivar alguno de los lotes como regalo a otra dirección. - Invitaciones para eventos físicos u online únicos
- Descuentos en la compra de todas las tabletas de chocolate durante el año de vigencia de tu suscripción
- Promociones y descuentos especiales en chocolates de edición limitada
- Asesoramiento en vuestros proyectos bean to bar
Disponemos de la mejor formación y la mas completa gama de chocolates bean to bar de España. Nuestros años de experiencia y conocimiento del sector nos avalan.
Precio de esta Suscripción:
Anual: 235€ Iva y transporte de los 6 packs incluido
Añade el producto al carrito y paga con tarjeta de crédito, Bizum o transferencia.
Para pagos cada 4 o 6 meses, consúltanos por telefono al 616984860
Si estás interesado en nuestras catas o en formar parte del Club del Cata de Chocolate por Suscripción, escríbemos a atencioncliente@clubdelchocolate.com y te informaremos con mas detalle.