Los cacaos el mundo.   

Los términos para definir los cacaos que actualmente encontramos en las grandes marcas como Cru, Plantación, Vintage, Origen,…, vocabulario que nos recuerda a la etiqueta de un buen vino donde hablamos de variedad de uva, pago o viña, añada, bodega, región o denominación,… y como en el caso del vino, esta información nos ayuda a conocer lo que vamos a degustar y nos asegura la calidad. En una misma plantación podemos obtener mejores habas una año u otro en función de las circunstancias edafológicas y climatológicas de cada añada o vintage, otra vez igual que el vino.

Igualmente, esta zonificación dará distintos matices en el aroma y sabor del grano de cacao. Los maestros chocolateros, enólogos del chocolate, trabajan el grano de cacao y combinan los distintos orígenes para obtener exxperiencias únicas para nuestros sentidos.

Algunos de estos chocolateros seleccionan en origen el producto y controlan el cultivo y cuidado que necesita el cacao (seguiendo la corriente "bean to bar"). Las técnicas agrícolas que seleccionan variedades de cacaotero de alta calidad aunque no alta producción propician que nos aseguraremos una cosecha controlada.

Sitios como Hacienda San José en Venezuela o regiones como Chuao, Piura, Xoconusco, ... se interpretan por los expertos como referentes de calidad.

Las firmas de prestigio siempre informan de las cualidades diferentes de cada uno de sus Origenes y las particularidades que presentan haciendo hincapié en sus notas de sabor, por ejemplo los Trinitarios de Domori:
Criollos de Perú: flores, caramelo y crema.
Arriba de Ecuador : avellana, banana y cítricos.
Río Caribe de Venezuela : frutos secos, frutas maduras, las pasas, el tabaco y la clorofila. 
Morogoro de Tanzania : frutos rojos, acompañado de una agradable acidez. 
Sur del Lago de Venezuela: almendras y café


Otros expertos informan de los diferentes matices de sabor según el origen del grano:

Brasil: la acidez brillante. Bien equilibrado sabores de cacao. Muchas veces con sabor a fruta sutil.
Colombia: con sabor a fruta moderadamente, ligeramente amargo, con sabor a cacao de profundidad.
Costa Rica: con sabor a fruta con un sabor a cacao equilibrada.
República Dominicana : profundo sabor terroso, con notas de tabaco aromático.
Ecuador (Arriba): afrutado, bien equilibrado, notas florales (flor de jazmín).
Ghana: cacao forastero clásico.
Indonesia: acidez equilibrada con sabores de cacao limpios.
Madagascar: sabores cítrico, con muy ligera acidez.
Santo Tomé y Príncipe: clásico sabor del cacao, muy equilibrado.
Venezuela (Chuao): complejo, sabores de frutas maduras que recuerdan las ciruelas y las cerezas de color rojo oscuro.

Esta nueva cultura del cacao es sostenible, se utilizan productos orgánicos, se cuidan las condiciones de vida de los trabajadores que, en forma generalmente cooperativista, reciben un precio justo por su labor. Incluso se produce cacao de alta calidad en lugares donde hasta hace poco se cultivaba coca dando así a los agricultores una salida digna al su problema con el narcotráfico.

Las firmas de calidad, siguiendo la filosofía "bean to bar" y "directcacao" se están esforzando por conseguir una vuelta al cacao de alta calidad y ayudando a los productores locales a mejorar sus condiciones de vida. Consumo responsable y sostenible.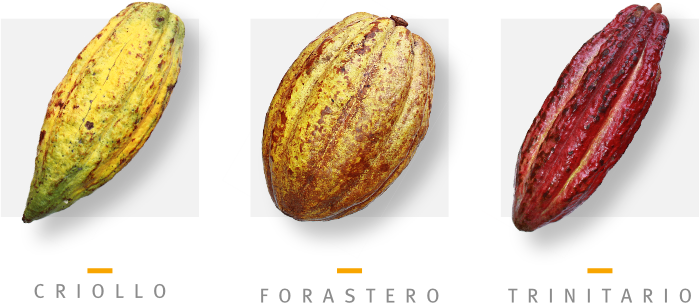 Los cacaos el mundo. 

Actualmente encontramos en las grandes marcas términos como 

Cru

, Plantación, Vintage, Origen,…, vocabulario que nos recuerda a la etiqueta de un buen vino...