A un postre con chocolate... ¿qué vino le va?.  

La pregunta del millón de ideas...
Tinto, blanco, dulce, seco, semiseco, afrutado,... elaboramos postres con vino, ¿porqué no tomarlos con vino?.
Realmente vinos y repostería han estado unidos desde las recetas de nuestras abuelas y más atrás: roscos de vino, tortas con anís,...
Los Pedro Ximénez, los olorosos de Andalucía, los moscateles de Levante,... son clásicos españoles que triunfan en los maridajes con chocolate.
Los Vin de Gel actuales, los Moscatos, los Oportos,... abren otras posibilidades al momento del postres.
Los tintos "dulces" de Mediterráneo también son posibles para los más osados.
Y por supuesto, el cava clásico que marida con el chocolate negro. La enóloga Eileen Crane se confesa adicta al cava con chocolate, dice que prefiere el chocolate negro con un champán 'brut' clásico, pero que si los bombones llevan chocolate con leche, un cava rosado es preferible. Otros expertos apuestan por la combinación de Rosados con chocolates blanco, Crianzas Tintos con chocolates con leche y Reservas Tintos con chocolates negros.
El equilibrio entro los taninos del chocolate y los de los vinos, la acidez de ambos, las notas florales, etc son la clave.
Como regla, se suele recomendar un vino mas dulce que el chocolate con el que maride,
En resumen:
Chocolates blancos con Chardonays y Espumosos, Moscato, Riesling, Chenin Blancs o Sauternes

Chocolates con leche con vinos suaves y afrutados Merlot, Pinot noir, Riesling o Sauvignon Blanc

Chocolates negros con crianzas,  Oportos, Cabernet Sauvignon, Zinfandel, Syrah, Garnacha, Monastrell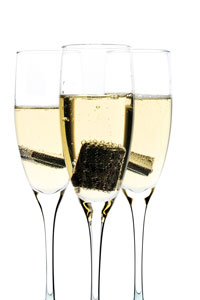 En Club del Chocolate somos expertos en CATA de CHOCOLATE Y OPORTO, solicita infomación 
Expertos en chocolate de altísimo nivel como Domori, proponen el siguiente emparejamiento de bebidas alcohólicas con chocolates:
Chocolate Trinitario Tanzania cacao y Ron 12 años - El chocolate de Tanzania ofrece notas de madera, castaña y especias, en perfecto equilibrio con los aromas del ron dulce e intenso, añejado durante doce años  en barricas de roble. 

Chocolate Trinitario Colombia y Sherry Oloroso. El chocolate de Colombia tiene un bouquet aromático dulce y fino, lleno de encanto, como las tierras de Colombia de donde proviene. En boca revela notas de anacardos y un delicado retrogusto a miel. Su dulzura se expresa en armonía con la del Jerez o Jerez Oloroso seco Solera 15 Años fortificado con alcohol destilado de vino. 

Chocolate Trinitario Venezuela y Grappa. Este chocolate de Venezuela presenta delicados aromas a almendra y café, baja acidez y larga persistencia. Su elegancia se ve realzada por el encuentro con la Grappa.

Granos de cacao Trinitario recubiertos de chocolate amargo & Whisky Blended Doble Maduración "From the Barrel" - Nikka Whiskey El aroma primordial del cacao, un velo de chocolate amargo y un riquísimo espectro de notas aromáticas para saborear lentamente. La cata se enriquece con una copa de From the Barrel, un Whisky Blended de Doble Maduración que destaca por su gran suavidad y elegancia.

Chocolate Trinitario Madagascar y Calvados . El chocolate de Madagascar ofrece notas intensas y aromáticas de frutos rojos, anacardos, pimienta y canela, acompañadas de una acidez agradable, una buena dulzura y de una persistencia evidente . Para disfrutar en combinación con el Calvados  de peras y de sidra de manzana.

Chocolate Trinitario Colombia y Tawny Port 10 años, El bouquet de aromas del chocolate de Colombia, fino, elegante y refinado, prepara el paladar para el Tawny Port 10 años, caracterizado por notas afrutadas persistentes, se enriquece con tostados complejos y matices de oxidación.

Chocolate Trinitario Madagascar Dark Chocolate Cacao y Irish Whiskey Single Malt . Un chocolate de rica personalidad, con notas de canela, pimienta, anacardos y frutos rojos, agradable acidez y evidente persistencia solo puede encontrarse con un Whisky con igual fuerza carácter, típicamente irlandés, envejecido en barricas de roble ex Bourbon, caracterizado por una fuerte turba.

Chocolate Trinitario Perú cacao y slay Whisky escocés de malta,  El cacao de Perú, originario de la zona del río Apurímac, es muy delicado: se caracteriza por una frescura de sabor enriquecida por notas florales, caramelo y crema de leche, es ideal en combinación con Single Malt Scotch Whisky "reserva que realza sus notas aromáticas sin abrumarlas.
Fuentes: Vivanco cultura del vino El Conocedor Denominación de Origen Utiel-Requena  Domori