Club del Chocolate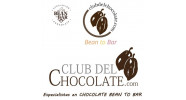 El chocolate bean to bar está en nuestro adn. Pioneros en la divulgación del chocolate de calidad en España desde 2011 hasta hoy líderes en el mejor chocolate posible.
Cuando se prueba el buen chocolate, los chocolates de consumo, que son la mayoría, dejan de interesar. Su cacao no tiene sabor ni aroma, solo azúcar. Si se ha probado un chocolate, sea negro o con leche, hecho con cacao fino, ya no hay vuelta atrás.
Hoy trabajamos con las mejores marcas de chocolate bean to bar nacional e internacional. Somos referencia en el sector y creamos comunidad.
Nuestro Club de Cata es mas que una suscripción a un lote de chocolate, es una experiencia en vivo 6 veces al año donde se aprende y se degusta de la mano de expertos.
Como complemento, hemos creado una pequeña línea bean to bar propia de ediciones limitadas, donde aportar nuestra pequeña contribución al sector del bean to bar nacional artesanal y con productos de cercanía.